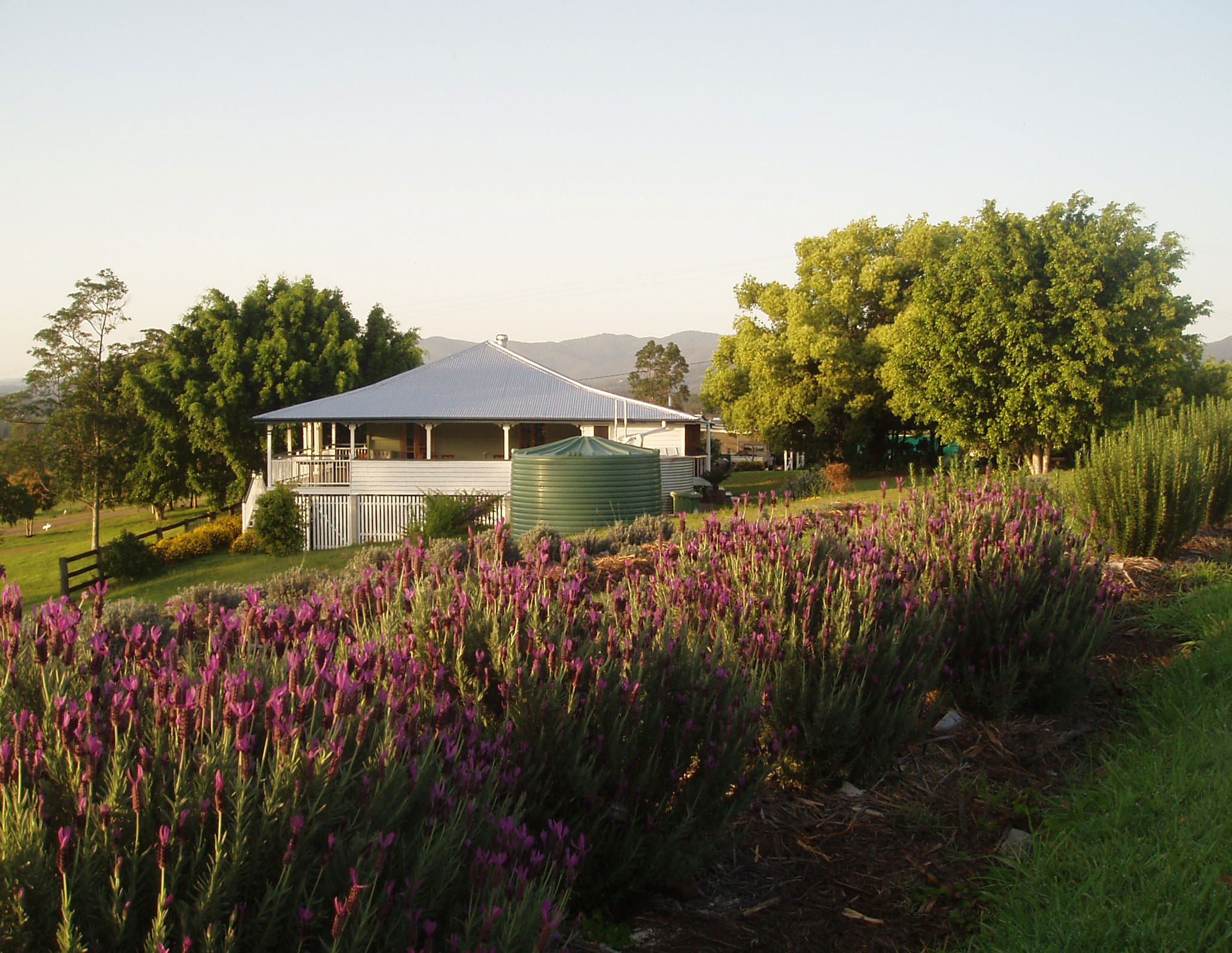 Blue Ridge Lavender Cottage offers retreat accommodation in a beautifully restored, expansive three-bedroom Queenslander in Dayboro.
You'll find us on tourist route 29, just past the township of Dayboro, only 45 minutes drive from the heart of Brisbane city and the airport. Nestled amongst rolling hills and rows of sweetly scented lavender, you'll enjoy stunning 360 degree views of the surrounding scenery, with green farm-like hills and stunning mountains hazed blue with gum trees.
Whether you're off for a romantic weekend, looking for a place to stay before your wedding (or for a group of wedding guests to stay), or you need to escape the stress and bustle of daily life for a week or two, you'll love the country charm and serenity of Blue Ridge Lavender Cottage.
Find out more about our cottage here.
Dayboro Accommodation
Need a lovely spot to stay to prepare for your wedding or for your family and friends to stay so they're close to your wedding venue too? We are situated close to numerous wedding venues in Dayboro and the surrounding hills and offer beautiful scenery as a backdrop for your photos. With pampering massages and breakfast baskets available—as well as a range of handmade, chemical-free lavender skincare and bathing products for you to enjoy for free—you can truly relax and indulge your senses at our cottage. Plus if you'd like to do some adventuring, the cottage is surrounded by national parks with walks and picnic spots aplenty and many local attractions, including horse riding, antiquing and wineries and many places to dine…you'll find plenty of things to do in Dayboro!
(Scroll down to read testimonials from our guests)
---
"I invite you to spend some time relaxing on our beautiful property. Come soak up the country charm of our cottage and enjoy our hospitality. Be pampered, and let our lavender work its magic on you."
– Sherree Matthews, your host
"What a great place. Spectacular surroundings, very comfortable home. Thanks for your friendly association. We would highly recommend this place to everybody we know."Ricky, George, Dot & Tony (Central Coast, NSW)
"A wonderful place for my daughter & her bridesmaids to get ready for the wedding. Everything was there that we needed. The beds were wonderful. Thank you so much for cleaning up after us (I was not expecting that) & for dropping us at Glengariff. A special mention to Tully the dog for his affectionate visits."Sue Rabocujy, bride: Angela & bridesmaids: Jessica, Donna, Alana, Zara.
"What an absolutely gorgeous place to relax in. Beautiful home in stunning surroundings. Thank you for the heavenly lavender products & for your hospitality, Sherree."Lesley, John & Jacqui
"Thank you for a truly delightful & memorable stay, Sherree. You should be congratulated for creating a rustic gem, presenting all the country charm of yesteryear while providing all the mod cons we can't do without. Your attention to detail (fresh flowers from the garden, soothing music to welcome us, etc.) made our stay really special. We loved the house & its beautiful serene setting amidst the rolling hills & paddocks. Thank you for the warm hospitality. We wish you all the very best. God bless."
The Wong Family (Singapore)
"Thank you Sherree, so much. The house is beautiful!!! & so are the gardens – absolutely gorgeous!!! Lovely, peaceful & relaxing & the views are stunning. Very hard to leave & go home. Thanks again."Dalene & Bruna
"Thank you Sherree for setting up the place so beautifully! Wonderful location, friendly atmosphere & lovely handmade lavender products. We'll be back!"Jeremy & Amy, Kallangur, QLD
---
Our Lavender Farm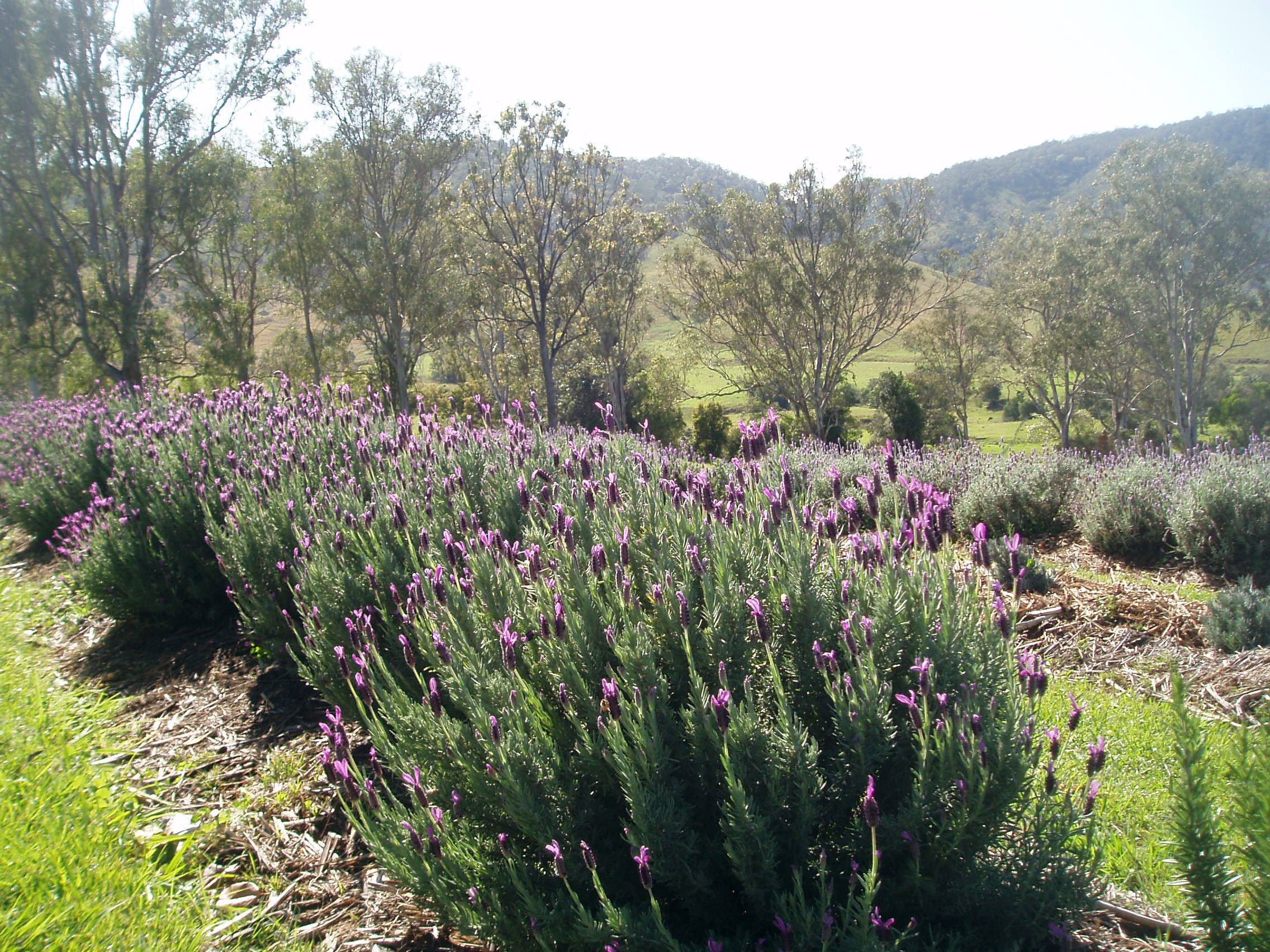 We decided to turn our hands to farming lavender after noticing a French lavender plant in our garden that flourished, producing beautiful flowers despite little watering or maintenance. Thanks to our love of gardening, we patiently propagated the original lavender plant and tested other lavender varieties.
After some trial and error, one variety flourished. Planted now, in neat rows, our verdant lavender bushes decorate an entire hillside adding to the scenic views from the cottage, blooming each year from June to September.
We sell fresh-cut flowers to local florists and use the lavender leaves and flower buds in our own handmade, chemical-free lavender products.